Home
About
We are a small family run business located in Alton, New Hampshire. Custom residential septic design plans have been our main focus since 2009. We try our best to make sure each customer is satisfied with our work and understands each step in the sometimes complicated process. Most of our initial appointments are in the evenings and on the weekends to cater to the hectic shedule of the working man and woman. Fully licensed and insured.
SERVICES
Custom New Construction and Replacement/Failed Septic System Design plans.

NHDES Shoreland Permitting.

Enviro-Septic rejuvenation.

Water treatment device backwash diversions.

Removal, disguise and relocation of unsightly leach field vent pipes.

Septic system inspections.

3D models for GPS machine control and surveying systems.

Data Preparation for construction project surveying systems.

Computer generated color contractor as-built plans.

Construction project survey and staking.

Construction project volumes and take-off for cost estimating.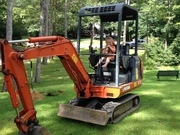 The whole family pitches in!
WHERE WE WORK:
ALTON

BARNSTEAD

DOVER

FARMINGTON

MIDDLETON

MILTON

MILTON MILLS

NEW DURHAM

ROCHESTER

SOMERSWORTH

WAKEFIELD

WOLFEBORO

Most NH Towns and Cities
CONTACT INFORMATION
For the fastest service call Jeff anytime at (603) 833-7106 or email using the link below.